Tanner MDA most már az EC-ventilátorral is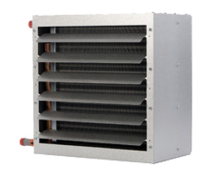 A legsokoldalúbb forró vízüzemű légfűtő berendezés a Mark vállalattól most már EC-ventilátorral is kapható
The TANNER MDA is a water-supplied suspended air heater which can expel air horizontally or vertically.
Mark Climate Technology offers a highly extensive range of accessories for the TANNER MDA allowing it to be aligned to all applications. For example, the unit can be made suitable for external air connection in combination with filtering and a mixing box for the destratification of fresh external air.
The TANNER MDA is designed for use in showrooms, changing rooms, corporate hallways and garages.
Tulajdonságok
Standard változata rozsdaálló alu-cink burkolattal kapható.
Réz/alumínium radiátor
A változatos konfigurációs lehetőségek nagyon sokoldalúvá teszik
IP 54
Delivery from stock
Sebességszabályzóval ellátott alacsony hangerősségű EC-motor (230V/0-10V):
A sebességszabályozás szempontjából leghatékonyabb
Részleges terheléssel akár 50% energiamegtakarítás is lehetséges
Szinte teljesen lineárisan állítható 30-100%-ban
Hosszú élettartam
Alacsony zajszint
Beépített elektronikus hővédelem